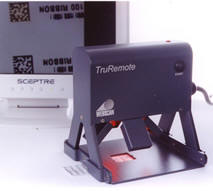 There are a variety of TruCheckô barcode verifiers to choose from. The TruCheck USB family is the newest generation products. These PC-based verifiers combine an easy-to-use Windows user interface with an appropriate scanning head for any verification application.
The CCD imager based TruCheck USB system is used primarily for 2D matrix style symblogies such as Data Matrix, QR, Aztec and MaxiCode. It will also verify linear 1D symbols that fit within the field of view of the imager.
The TruCheck Laser USB is engineered for Linear 1D and 2D symbologies. Bar codes such as UPC, EAN13, GS1 DataBar, Code 128 and Code39 are a few of the most common linear symbols supported by the system. UPC and EAN13 are used on a majority of the products that are purchased in stores, Code 128, GS1 128 and Code 39 are commonly used for packaging labels and codes used in back end systems.
TruCheck Laser USB also verifies line scannable 2D symbologies such as the PDF417 family and GS1 DataBar composite codes are used in a variety of applications. These 2D linear bar codes allow large amounts of data yet maintain the ability to be read with low cost scanners. They have been adopted in a number of applications from point-of-sale coupon scanning to other industrial related shipping, identification, manufacturing and traceability applications.
The TruCheck 101, 201, and 401 series are our legacy stand-alone verifiers (no PC required). TruCheck 101 series barcode verifier verifies all of the major linear symbologies. The TruCheck 201 series verifier verifies all of the major linear symbologies and 2D symbologies such as PDF417 and MircroPDF417. The TruCheck 401 series barcode verifier verifies matrix type barcodes as well as all linear and 2D (PDF417 and Code 39) barcodes.
TruCheck is the first and only verifier to provide automatic 10 scan ISO/ANSI grading. Simply place your bar code sample on the platform and touch one button. The laser moves over the entire bar code from top-to-bottom - providing 10 scan ISO/ANSI grading. A report is then generated instantly with the necessary diagnostic information. The report includes all 9 ISO/ANSI parameters and the Scan Reflectance Profile.
TruCheck family of barcode verifierís meets system grading requirements according to all of the following specifications: ISO 16022, ISO 15415, ISO-15416, AIQG AS9132 ANSI and conform to the requirements of the DODís MIL-STD 129 and 130. These systems also check and parse data according to GS1 and HIBCC formats.
TruCheck works on labels, nameplates, and direct parts marks.
All TruCheck verifiers are end user calibrated with standards that are NIST traceable.
To help fit the correct model to your needs, please select the appropriate image:
Verification of GS1 DataBar Coupon (RSS) barcode symbology:


GS1 DataBar Coupon
Verification of linear barcode symbologies such as UPC, UPC-A, Code 39 Pharmacode, Codabar, etc:



UPC
Verification of 2D barcode symbologies such as PDF417 and MicroPDF417:


PDF417
Verification of Data Matrix barcode symbology:


Data Matrix