For applications where generic packaging needs to be marked according to the individual stock keeping unit (SKU), or where a company has inventory already packaged - but without the necessary, or the correct, bar code - PIPS, Inc. offers a wide variety of pressure sensitive bar code labels. We also maintain a large assortment of hang tag stock for use in apparel marking and other applications where pressure sensitive labels may not be appropriate. Corporate logos, or whatever additional product information may be required, can be easily included; and multi-color jobs are routine.
Beyond the SKU level, broad-based commercial and industrial compliance marking now extends to intermediate packs and the shipping container level. Bar coded inner pack and shipping container labels are essential to the efficient dispatch, transport, receipt, warehousing and inventorying of merchandise. Trading partners (customers and suppliers alike) now rely on Electronic Data Interchange (EDI) coupled with Advanced Shipping Notice (ASN) and Just-In-Time (JIT) delivery schedules to increase productivity and reduce costs. Success in this area is dependent upon quick and accurate data capture from high quality bar coded intermediate pack and shipping container labels.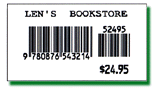 PIPS, Inc. provides a comprehensive bar code and promotional label service across a wide variety of industries from publishing to retailing to healthcare, both as a printer and as a Value Added Reseller (VAR) of on-demand printing equipment and supplies. The experienced and courteous PIPS label department staff meets the requirements of hundreds of customers every month whenever the need for UPC/EAN, LOGMARS, HIBCC or other labels arises, with when-needed delivery in emergencies and the fastest standard delivery in the business.
No order is too large or too small for the variety of label production equipment used, including thermal transfer, laser, offset and flexography. Whether your order is for less than a hundred or in the hundreds of thousands, PIPS, Inc. labels and tags will be competitively priced and delivered on-time to meet your needs.
For blank label, tag, sheet stock, and preprinted materials, please call us at 888-783-7439 or 212-996-6000. You can also email labels@pips.com.
In today's increasingly sophisticated packaging, warehousing, and asset tracking environments, specialty labels are often the answer to difficult bar code data capture environments. PIPS, Inc. expertise extends to a number of typically hard to find bar code label types, including two-part patterned gum labels for larger retail packages, pre-strung string tags for small items, long range (6-35 foot scanning distance) retroreflective synthetic labels for warehousing, and embossed or punched metal bar code (and Dot code) labels for asset identification and manufacturing production in harsh environments.