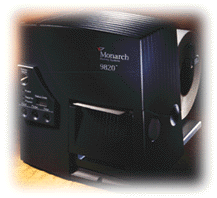 Monarch Brand (a division of Avery Denison) is one of the best-known brands in the world when it comes to retail compliance marking and bar code label and tag printing equipment. PIPS, Inc. has grown to become the largest Value Added Reseller of Monarch Brand printing equipment in North America. Year after year, Monarch Brand thermal transfer printers consistently represent the highest quality and value available in the market.
Every week we ship hundreds of thousands of labels and tags printed on thermal transfer printers, the vast majority printed by Monarch equipment - the most reliable printers we've ever used! The easiest and fastest to operate and maintain. And with Monarch's total Customer Satisfaction Guarantee, and nearly 200 factory service technicians across North America (and a hundred more around the world), you can be assured of years of service and literally millions of labels from your Monarch Marking Systems printer. (Some of our own in-house Monarch printers have in excess of 20 million inches of label production with just routine maintenance.)
To meet the demands of the growing market for more specialized applications, PIPS now offers a wide range of purpose-built label and tag printers; including thermal/thermal transfer printers, multi-color card printers, ultra high-density printers, among others. Traditional in line, high-speed print and apply labeling machines from Monarch are also offered.